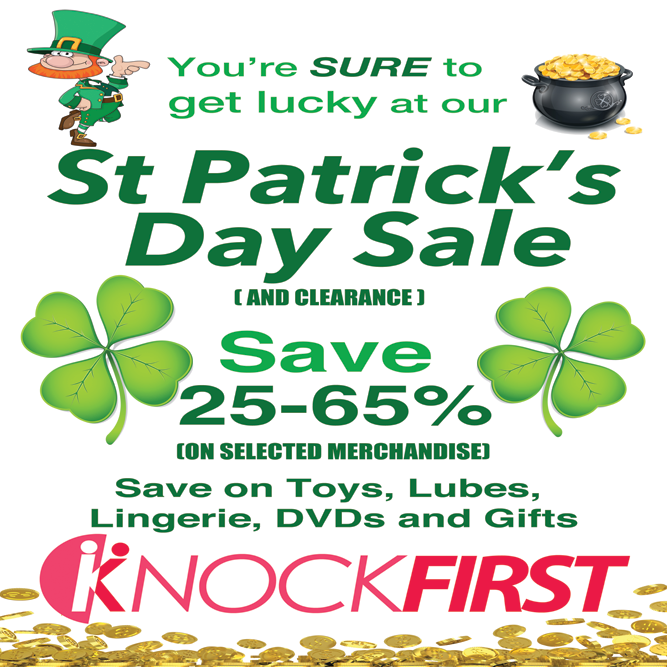 Come discover the "KNOCK FIRST" difference during
Our St Patrick's Day Sale.
We are understated, elegant, and discreet. Not your typical sex shop!
VALID IN STORE ONLY.
Save
Save
Save
Save
Save
Save
Save
Save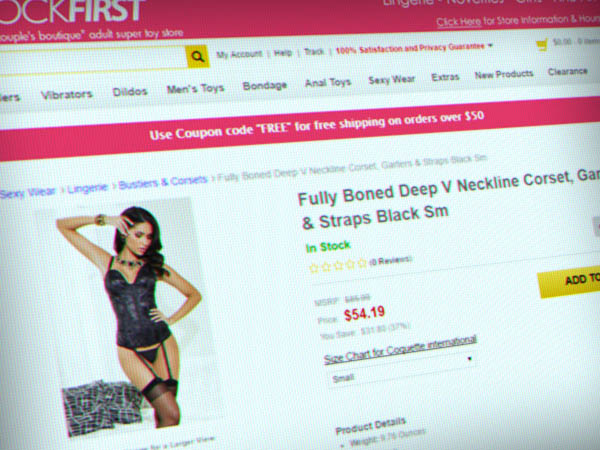 Bring some surprise and excitement and add a little zing to your next date night with any of these sexy accessories, lingerie, hosiery, and body adornment.
Act out your wildest fantasies by playing dress up, teasing your lover when you're out of town, or just enjoy it at home. If you do enjoy using these, you will also find our lashes, pasties, and other goodies to be appealing.
Types of Lingerie & Fantasy Wear
If you are into the fantasy of bondage, these blindfolds, cuffs, and teasers are perfect for role play, putting on a show, or trying something new.
Whether your sprucing up your boudoir ensemble, or shopping for an intimate gift for your significant other, we've got a terrific selection of sexy and provocative intimate apparel for every occasion.
Bestselling Lingerie & Fantasy Wear
Browse our bestselling products: Remote Control Panties, Erotic Body Open Bra, Vibrating Lace Thong.
Save
Vibrators are an amazing way to explore your sexuality, either through using them solo or with a partner. They can be used in many different settings and can really turn up the romance.
Knock First is proud to offer our vast line of sex toys and vibrators in a wide array of colors, sizes, styles, and functions.
Types of Vibrators
We have dozens in stock in every variation, multiple motors, rechargeable, responsive to light and sound and that come in a variety of shapes, sizes, colors, and prices. Come pick out a new best friend. Vibes rock!
Bestselling Vibrators
Browse our  best-selling vibrators, such as G-Spot Vibrators, Rabbit Style, and Bullet Vibrators.
Save
Save
Save
Save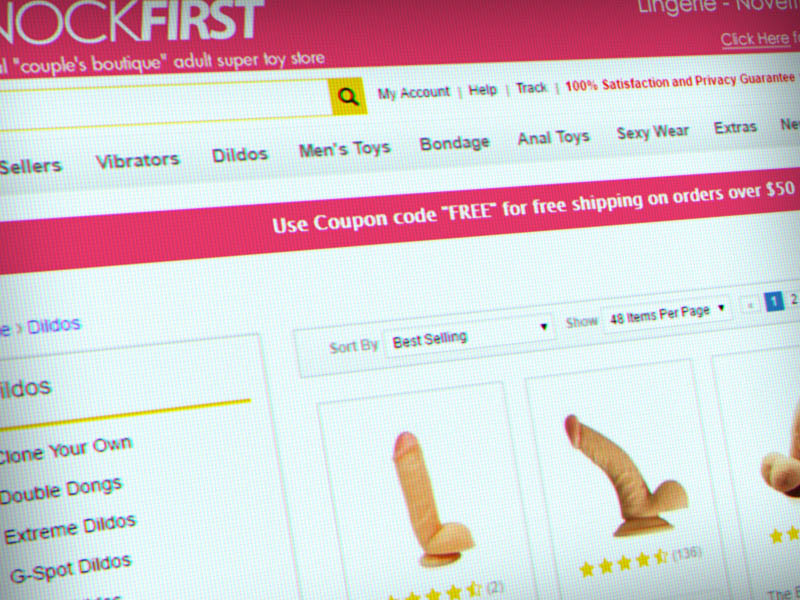 Available in a fantastic variety of sizes, styles, colors, shapes, and materials from silicone to glass, metal and even wood. and come in a fantastic variety of sizes, styles, colors, shape, and materials, from silicon to glass, metal and even wood. And yes, dildos are even older than the oldest profession !
Knock First is excited to offer you a variety of styles, colors, shapes, sizes and materials – all of which are staff approved dildos that are perfect for solo play, partner use, G-Spot sex, and strap-on harness play.
Our in store selection will satisfy almost any desire, in every size and shape.
Types of Dildo's: Dildo with a Suction Cup, Hands Free, Vibrating, & many more.
Save
Need Customer Assistance?
If you still need help and have questions about what item to purchase, call our customer service team at 301-444-4442, info@knockfirst.net.
Whether you prefer to visit our retail store or browse our online store to find the products you desire, our staff is always here to help. You can always call during business hours to have our staff answer any questions you may have. You can reach us at 301-444-4442.
Join Our Free Newsletter
Receive free emails on new deals, products, and events